In this year's Empirical Methods in Natural Language Processing (EMNLP) conference, members of the Alexandria project, Besnik Fetahu, Avishek Anand and Katja Markert, will be presenting their work on determining citation span for references in Wikipedia pages.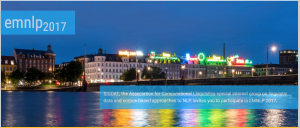 EMNLP is one of the top-tier venues for works in the field of Computational Linguistics. The importance of this conference, is shown by the statistics of this year's conference, which had an increase of about 50% in terms of submissions compared to the last years.
For more explanation and the outcomes of this work we refer to the page providing more details and the ground-truth.